Purpose & Duties
The Retirement System Investment Commission (RSIC) has exclusive authority for investing and managing all assets held in trust for the participants and beneficiaries of the five state defined benefit plans, collectively referred to as the ("Retirement System") or (
Systems
).
The RSIC has an unwavering commitment to financial security. The long-term nature of the Retirement System reflects the long-term investing horizon strategy. Each of the defined benefit plans provide lifetime retirement annuities, disability benefits, and death benefits to eligible members and their beneficiaries.
Pension Trust Funds
$26.4 Bil
SC Retirement System (SCRS)
510,318 members
$4.7 Bil
SC Police Officers Retirement System (PORS)
60,947 members
$164.0 Mil
Retirement System for Judges & Solicitors of SC (JSRS)
376 members
$35.4 Mil
Retirement System for General Assembly of SC (GARS)
476 members
$31.1 Mil
National Guard Retirement System (SCNG)
18,806 members
*As of March 31, 2019
**As of June 30, 2018
RSIC Pension Fund Structure
Investment income, employer contributions, and employee contributions are the largest sources of revenue to the trust funds.
PEBA administers the state's public pension plan while the RSIC manages the assets of the Retirement System.
This chart depicts the revenue to the trust funds over a 10-year period. The exact proportion of these numbers to each other will change over time as investment income changes (investment income will change each year depending upon investment strategy and market returns) and if any changes are made to the employer and employee contributions.
42.4%
$14,310,607
Investment Income
33.9%
$11,439,376
Employer Contributions
23.1%
$7,798,898
Employee Contributions
0.4%
$118,096
Nonemployer Contributions1

0.1%
$43,657
State-appropriated Contributions

0.1%
$26,198
Other income

1Includes nonemployer contributions which occured in FY 2018 as a special credit from the Legislature to help offset the increase in contributions.
Amounts expressed in thousands.
Data from the Popular Annual Financial Report (PAFR)
As of June 30, 2018
Oversight
The statutes governing the RSIC are found in the Title 9, Chapter 16 South Carolina Code of Laws.
While the RSIC has exclusive authority to manage and invest the assets held in trust for the Retirement System's participants and beneficiaries, other fiduciaries and trustees also exercise authority and have oversight roles.
Retirement System Investment Commission (RSIC)
Named Trustee and Fiduciary Responsibilities:
Invests and manages pension funds
Manage custodial banking relationship
Public Employee Benefit Authority (PEBA)
Named Trustee and Fiduciary Responsibilities:
Manages Custodial Banking Relationship
Sets the RSIC accounting policies
Provides investment accounting and financial reporting
Directs external auditing
Provides the RSIC IT support
State Fiscal Accountability Authority (SFAA)
Legal Framework:
Approves the RSIC purchasing policy
Members appoint 6 of 8 Commissioners
State Legislature
Policy and Legal Framework:
Sets the RSIC legal authorities
Sets fund assumed rate of return
Members appoint 2 of 8 Commissioners
Oversight:
Approves budget annually
Approves headcount annually
State Auditor
Oversight:
Selects fiduciary audit firm
Conducts fiduciary performance reviews every four years
Attorney General
Oversight:
Approves retention and rates for non-investment related matters
Approves hiring of temporary internal counsel
Comptroller General
Oversight:
Conducts accounts payable and payroll procedures audit
Standards
The pension fund investments are managed by our experienced RSIC (agency) team and the Commission (governing body). They are supported by hired industry-leading consultants and external managers. We all work together to make informed, responsible decisions about the RSIC investments.


WITH SUPPORT FROM:

RSIC

Investment
Policy


RSIC Investment Team
_______________

Meketa Investment Group

Allocates
Assets


RSIC Investment Team
_______________

Albourne America, LLC
_______________

Meketa Investment Group

Hires Investment
Manager


RSIC Investment Team
_______________

RSIC Investment Operations Team
_______________

RSIC Legal Team
_______________

Meketa Investment Group

Monitors
Performance


RSIC Investment Team
_______________

RSIC Reporting Team
_______________

RSIC Enterprise Risk Management
& Compliance Team
_______________

Meketa Investment Group
_______________

Albourne America, LLC
_______________

BNY Mellon
We measure our investment performance by:
The stated return objective of the portfolio - 7.25 percent annualized net return
The investment policy benchmark - calculated by applying the investment performance of each asset class benchmark to the strategic allocation for each asset class.
Performance relative to a peer universe - allows constituents to evaluate the competitiveness of the investment staff's implementation of the portfolio relative to other pension plans.
Plan and Policy Benchmark
Our goal is to achieve a trailing three year rate of return that exceeds the median pension fund and our policy benchmark.
*As of March 31, 2019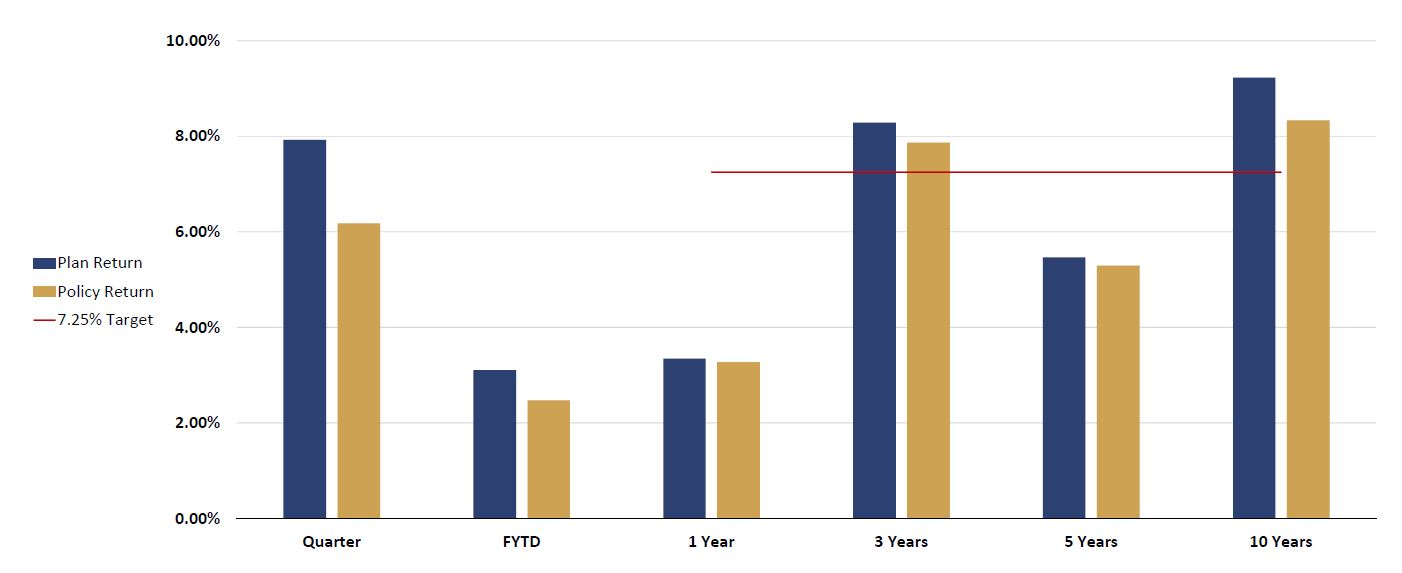 Performance
Executive Summary

Market Value


(in Millions)

Quarter
FYTD
1 Year
3 Years
5 Years
10 Years
Total Plan
$31,319
7.92%
3.10%
3.34%
8.29%
5.47%
9.23%
Policy Benchmark
6.18%
2.47%
3.27%
7.87%
5.29%
8.34%
Net Benefit Payments (millions)
($262)
($911)
($1,143)
($3,461)
($5,582)
($10,367)
Returns are provided by BNY Mellon and are time-weighted, total return calculations. Net of fee performance is calculated and presented after the deduction of fees and expenses. Periods greater than one year are annualized. Past performance is no guarantee of future results. Policy benchmark is the blend of asset class policy benchmarks using policy weights. Asset class benchmarks and policy weights are reviewed annually by the Commission's consultant and adopted by the Commission, and have changed over time. The policy benchmark return history represents a blend of these past policies.